We are a leading manufacturer of purifiers for nitrogen, oxygen, hydrogen, argon, helium, and ammonia.
We offer a broad range of purification systems, including systems based on normal temperature adsorption,
cryogenic adsorption, and gettering.
Puremate series
Puremate1400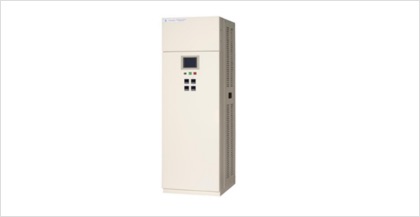 Puremate 1400 is a new standard model, an updated version of the popular Puremate 1000 Series.
Retaining the high performance and high functionality of the Puremate 1000, it boasts compact design and lower operating costs.
Puremate1100
Puremate 1100 is a low-end model for customers wishing to use small flow rates of high-purity gas.
Purification
Gases (Flow rates in Nm3/hr are indicated in parentheses.)
Normal temperature adsorption
N2
Ar
He
O2
H2
NH3

CO2

(Catalyst + adsorption)
(3~2000)
(3~100)
(3~100)
(2~100)
(3~100)
(6~100)
(100~300)
Getter
Ar
He
(0.3~30)
(0.3~30)
Cryogenic purification
He
H2
(10~500)
(10~500)